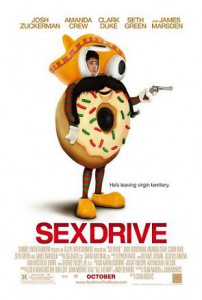 Who's in it?: James Marsden (X-Men, Enchanted), Seth Green (Can't Buy Me Love, Robot Chicken), Clarke Duke (Hot Tub Time Machine, Kick-Ass), Josh Zuckerman
Dammit man, this is about the time when I started thinking, "This is going to be a painful 100 fucking movies."…and it was only 16 flicks in.  I would go on to to see some good flicks in this time.  This however was not one of them.  Let me first clear the air and tell you, apparently, this movie is based on a book.  Before you get excited with thoughts of, "Oh, how exciting.  I love when my favorite literature is adapted into a cinematic film…",  cool your jets, because you'd be in for some serious fucking disappointment.
Fucking American Pie.  Ever since that fucking movie, there have been a billion copy cats.  Add Sex Drive to the list.  And it is what it is.  A road trip movie and a quest for sex.  It's right there in the title.  It's your typical love story: boy meets girl on internet.  Boy is virgin.  Boy want make sex to pretty girl.  So boy steal douche bag brother's car and sets out with friends to meet some hot chick…and do it to her.  Along way boy find true love has been with all along. It's fucking Shakespeare.
Unfortunately boy and friends resort to dumb ass cliched humor mainly consisting of ongoing gay jokes.  Real fucking clever.  Way to go dip shits, except this movie has been made a thousand other times, and much better.  Actually, the real problem is this movie and movies like it– aren't made for dudes like me anymore.  I'm way too old and jaded to be able to relate to a bunch of dumb ass teenagers running around like fuck-tards trying to get their noodles wet.
4/10
Would I recommend this movie?: Maybe if you're 12, but if you're 12 you shouldn't be watching movies like this.  Shame on you.  In fact, if you're 12, you shouldn't be here.  Get the fuck out of here.  Pass on this one.