You know those movies where you watch and think, this isn't bad, but everyone one involved with this movie has done something much better. So, you stick around through the end hoping by some magical act of faith, the cast and crew will produce a humdinger of an ending that will justify the existence of the movie you're watching. "Burke and Hare" was exactly one of those movies. The one you've never heard of until you see it on the shelf at Blockbuster and think, hey that looks promising….famous last words.
"Burke and Hare" takes place in the early 1800′s and stars Simon Pegg ("Shaun of the Dead") as William Burke and Andy Serkis ("Lord of the Rings") as William Hare, a couple of immigrants who are finding a hard time making an honest dollar in Edinburgh, Scotland. They find out that doctors at medical schools are paying good money for corpses so they can dissect them. Just so happens that an elderly gent who rents a room at the Hare household has just passed away of natural causes. So they sell him to Dr. Knox (Tom Wilkinson).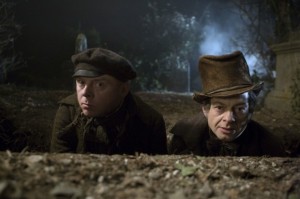 Knox agrees to pay these guys a big fee if they bring him two bodies a week. Burke wants to use the money to help fund an all women's version of MacBeth, put on by Isla Fisher, a former prostitute. Hare wants to open a funeral parlor. Of course dead bodies aren't easy to come by, so the boys take to murdering people who won't be missed. Soon enough the local law enforcement is on to them.
The film is directed by John Landis ("Coming to America", "The Blues Brothers"), who until this flick had been keeping to TV for several years. His time away from the world of movies shows. The pacing is quite bad and a story that could have been and probably should have been much more interesting falls incredibly flat. Not even the usual comic timing of Simon Pegg and the charisma of Andy Serkis can help this muddled script.
"Burke and Hare" is based on the true story of the Burke and Hare murders. The story seems to have a lot of potential but there is little to no drama to anything that happens. You have the two guys running around killing people to sell the bodies to medical schools. Burke's girlfriend is in on it. Hare's wife is in on it. A lot of people in the town seem to know what's going on. The movie never tries to be funny and approach it as a dark comedy nor does it try and delve into the psychological impact this could have on people.
With that being said, "Burke and Hare" is a disappointment from start to finish. It never figures out what kind of movie it wants to be and just kinda plods from scene to scene like a wayward teenager that one day may figure out what he wants to do with his life not knowing there is an expiration date on his life, or in this case a too short running time of about 90 minutes.
Check out some of my other movie reviews at Examiner.com.
Follow me at:
Burke and Hare trailer:

Photos and trailer are property of IFC Films